By Leorah Gavidor, Gift Shop blogger
Have you ever thought about diving in to poetry? Pick up this trio of ocean-themed children's poetry books at Birch Aquarium at Scripps and delve into an underwater world of curious creatures, imaginative language, and engaging illustrations that combine marine biology and poetry. Try reading one aloud at bedtime for a lyrical reverie, or on a rainy day when the world is wet and the water washes down to the sea.
If you're interested in these books, please consider placing your order through Birch Aquarium's Gift Shop. We can ship anywhere, and your purchase supports aquarium exhibits and educational programs for thousands of school children each year. Contact us from 9:30 a.m.-5 p.m. daily at 858-534-8753 or send an email to aquariuminfo@ucsd.edu. We can't wait to hear from you!

At the Sea Floor Café: Odd Ocean Critter Poems

By Leslie Bulion, illustrated by Leslie Evans
$14.95
When At the Sea Floor Café first arrived at the shop, the title alone sparked my imagination, conjuring up images of an underwater open-mic night, where spiny lobsters stood on stage and proclaimed poetry to a salty audience of krill and clams. Maybe the vibrant woodcut illustrations of snapping shrimp, convict fish, and other odd ocean critters helped a little, too, getting me thinking about how strange-looking sea animals can really make for some wonderful art.
Upon reading it, I discovered that the book uses poetry as a way in to the study of marine biology, and it's packed with facts about the sea life that provides inspiration for the poems. A brief explanation follows each poem, giving information about each animal and encouraging further study. With a glossary of scientific terms and an appendix of "Poetry Notes," this book makes a great addition to a classroom library.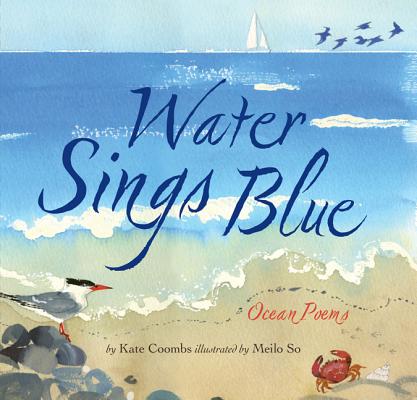 Water Sings Blue: Ocean Poems
By Kate Coombs, illustrated by Meilo So
$16.99
Walking down the big hill that leads to Birch Aquarium and looking out over the Pacific, I can't help but think, "water sings blue." In the title, the author of this book has perfectly described the sparkle and ripple of the water's surface, and the allure of what lies below. The rich hues and watery whimsy of the watercolor illustrations give readers a reason to pause and take in every page slowly, letting the words and colors create a soothing sail on the seas of imagination. And while you're there, meet some unusual creatures you probably won't find in most children's books about the ocean—there's the gulper eel, with his "astronomical maw," the 50-foot long oarfish dwelling in the deep, or the colorful nudibranch, who "dropped his clothes in a spot not even his slug mother knows." For marine enthusiasts and young readers alike, these poems will inspire another way of thinking about the ocean.
In the Sea
By David Elliot, illustrated by Holly Meade
$16.99
Save room on your bookshelf for this one—a stunning array of woodblock and watercolor prints that swirl and flow like the ocean that is their subject, punctuated by short yet imaginative poems that finish off the illustrations with just the right amount of text. This playful and colorful collection of poems strikes a pleasing balance between word and art, allowing the reader to appreciate both fully. Consider the two-page collage of urchin ("spiny"), sardine ("tiny"), mackerel ("shiny"), and shrimp ("briny"). The one-word poems immediately evoke the essence of the animals they describe, and the pictures invite exploration. Get out your pencils and paints—this book will make you and the kids want to create!
Don't forget – you can order these books through the aquarium Gift Shop! Contact us from 9:30 a.m.-5 p.m. daily at 858-534-8753 or send an email to aquariuminfo@ucsd.edu. Thank you for supporting our work.